We are so blessed. This is my second award, actually I was awarded this last week, but I had a senior moment like my Mom has from time to time. Thank you PB&J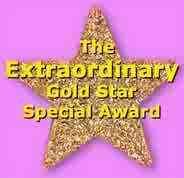 The Extraordinary Gold Star Award was created by - Storm, The Furry Fighter - and is for Bloggers who have achieved or done something special. The award celebrates beyond what is ordinary or usual.

1) Post the explanation and rules of the award and link back to the blogger who presented you with the award and repeat the reason why you received it.
2) Pass the Award on to two other Bloggers who you fink deserve it and explain why!

There are so many deserving kitties
I had to choose two kitties...

I think it would have to be Baby Mao, I boogied my way all through his blog. It put me in a really jazzy mood & I loved it!! and Perfectly Parker, because he is my boyfriend...shhhhh...don't tell him...it's a secret. He is a very handsome man-cat.
***I'm sooooooo embarrassed, I just found out, Parker is a girl. I'm crushed! Now, I'm on the prowl for a new boyfriend...wish me luck. I hope I can tell if it's a he or a she.
I still want Parker to have the award...she is very beautiful...and a nice kittie. I liked her blog. She has a way with words....Love it!